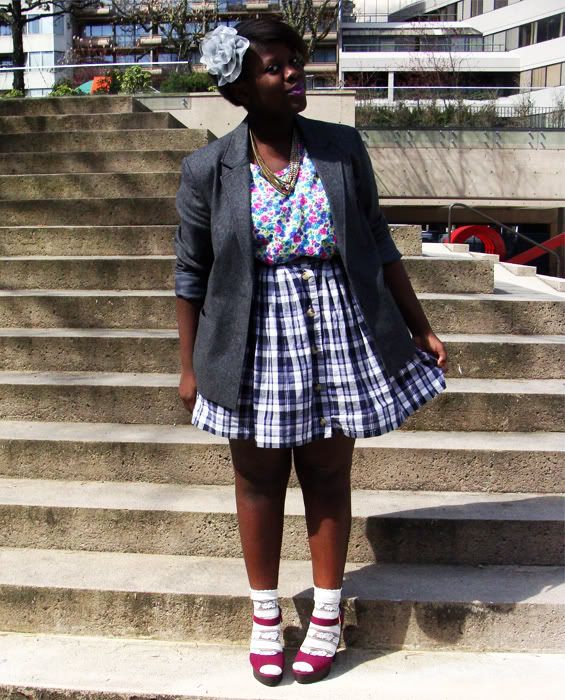 Hello! My name is Lydia, and I write a personal style blog called
Style is Style
. I love color and vintage inspired style and my blog consists of outfit posts, editorials and inspirations from around the web. I am very excited to be guest posting on The Clothes Horse (one of my daily reads) while Rebecca is enjoying Spain and Italy!
Although I'm pretty envious that Rebecca is travelling, I am enjoying being a tourist of sorts in my own city. I'm from Vancouver, BC, Canada (home of the 2010 Winter Olympics!) I only moved to Vancouver about 9 mos ago. I used to live in a smaller city about an hour away, and I love the urban life! One of my favorite pastimes is discovering new nooks and hidden places in the city that I hadn't noticed before. My friend Marisa and I found a new photo spot whilst wandering one day after school. The stairs make for a nice backdrop, no?
My favourite parts of this photo set are as follows: A) Marisa's killer outfit. Those shorts?!? And that double collared blouse? Amazing. Too bad they are both from Thailand.... and B) My NYC Cosmetics lipstick. The color has just enough blue in it that it gave me a lilac pout. Exactly what I've been searching for this spring, and under $5 too!
What are your spring and summer picks? Do you have any favourite "hidden" spots in your city?
Trench: Urban Renewal
Blazer: Thrifted
Floral Blouse: Thrifted
Necklace: Urban Outfitters
Skirt: Thrifted
Socks: Urban Outfitters
Shoes:
Catwalk Queen Heels c/o Modcloth
Flower: Icing by Claire's